While catching some afternoon Zs seems like a lazy luxury, napping is good for you — really! Here are some of the benefits you may experience:
Helps to restore alertness and prevent burnout
Increases productivity
Heightens sensory perception
Reduces risk of dying of heart disease (if you nap at least three times a week)
The Restore Chiropractic Resting Room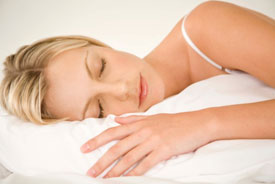 Because we believe in the potency of a power nap, we feature a resting room at the practice. After patients get adjusted, we take them to our resting room, a private curtained-off room equipped with zero gravity chairs designed by NASA engineers. The room is dark, and we have salt lamps and soothing music playing. Patients will rest in the chair for 20 minutes to give the body time to adapt to the adjustment. We encourage patients to make this area a digital-free zone.
This resting time is clinically important because as upper cervical practitioners we utilize the righting reflex, which means we look to the root cause of where the alignment issue is. We make the alignment and give the body time to adapt to the adjustment.
For example, if you get back in your car into a stressful environment your body's going to tense right back up again. You're not going to have time to react to the alignment that was being made. When people skip time in the resting room they end up with a sore neck the next day because they're not giving the body time to acclimate to the adjustment.
Take Time to Be Still
In addition to the health benefits of resting, it's also important to take time out of your day to just sit and be still. As a society we're always on the go. Busyness seems to be a badge of honor but resting is essential when it comes to overall health.
Discover how great you can feel with an adjustment followed by time in our resting room!