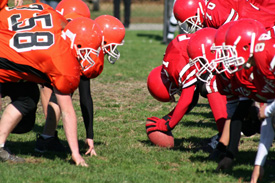 In today's world, too often, we only seek help for health issues once they've become nearly unbearable or seriously threaten our ability to participate in our favorite activities.
What if there was a better way?
At Restore Chiropractic, we talk to our patients about taking their power back. You're capable of enjoying the highest levels of health. Sometimes, though, your body may need a bit of assistance, which is where chiropractic care can play a role.
Upping Your Game
Chiropractic care is an incredible asset for athletes all over the globe. Professional teams have chiropractors on staff, and top-level athletes from golf, basketball, football and more are regular chiropractic patients. Why?
In the simplest terms, think of your car requiring regular realignments for you to get the best performance out of it. If you didn't maintain it, one side would wear down, causing your vehicle numerous additional problems. If your body is properly aligned, you can function optimally, which means you'll have a decreased risk of injury.
You can take part in events, activities, practices and games knowing that you're taking a proactive approach to your health. Instead of waiting for pain to strike, chiropractic can be used to prevent injury so that you can play at your highest levels.